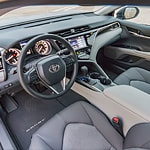 The Toyota Camry is more popular than ever. This mid-size sedan has lots of fans in the Duluth, GA area, thanks to its reliability and style. Now, the Camry is making a name for itself when it comes to performance.
One of the most notable performance features of the Camry is the available Drive Mode Selector. You can choose between the Normal, Eco, and Sport mode. Whether you are looking for a fun time on your favorite road or simply want to stretch your fuel efficiency, the Camry has a solution for you.
Getting great performance doesn't mean you have to compromise. The V-6 powered Camry offers you up to 32 miles per gallon. That's one of the best fuel efficiency ratings for a vehicle that comes with over 300 horsepower.