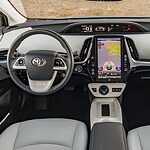 The ever-popular Toyota Prius is a compact hybrid that takes the lead among its competition. It gets much of its popularity in part from its visually appealing and innovative interior. The interior alone makes it an ideal car for driving your family around town or for work.
When you drive your family around, particularly your teenagers, you know how important it is for them to keep their phones and devices charged. The Prius now comes with three UBS ports that allow for fast and safe charging of all of the most popular mobile devices today.
The Toyota Prius also helps you multitask while you drive thanks to its integrated Amazon Alexa. You can ask Alexa to make up a shopping list for you or preheat the oven at home. You can also ask it to tell you about upcoming road conditions or warn you about detours during the summer construction seasons.